Overview
Course video
Learn about these increasingly important technologies in the production of drinking water, industrial water treatment and desalination.
In this course you will gain hands-on experience in water treatment with reverse osmosis.
Membrane filtration using reverse osmosis is a technology that is increasingly being used in many water related organizations. Did you know for instance that reverse osmosis is now the most important technology for making fresh water out of seawater?
For anyone interested in the fascinating world of membrane technology in drinking water production and industrial water treatment, this course will provide you with the fundamental knowledge to better understand the process and its applications. Your dependence on external advisors will be reduced and your ability to make decisions regarding investment and maintenance within the organization will be greatly enhanced.
Practical applications
The main emphasis of the course is on spiral wound modules, which is the most common membrane configuration. During the course, you will learn some theoretical background such as mass balances, rejection, concentration, polarization etc. and will have the chance to engage in practical applications such as designing a reverse osmosis installation with the use of commercial computer programs.
Virtual 3D lab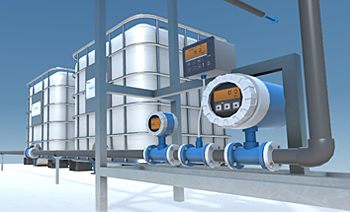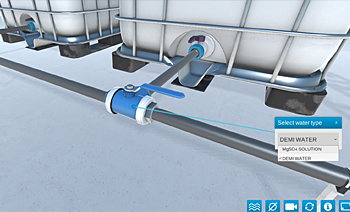 The course includes several video excursions to functioning reverse osmosis installations. Through these you will experience the operation of a seawater installation, a brackish water installation and an industrial water treatment plant. In addition, you will have access to our own virtual (3D) laboratory experiment with a membrane pilot installation. In this virtual lab, besides gaining immediate hands-on experience with a small reverse osmosis installation, you will be able to perform a "real" lab experiment, gather data and do calculations with the data and draw conclusions regarding concentration, polarization and other operational factors.
Desalination techniques
A major focus of the course will be the application of these technologies to desalination. Considering the growing needs for freshwater and the increasing need for affordable alternatives, the current trend is to use a desalination technology with the lowest energy consumption. Reverse osmosis membranes form the main energy-saving technology for seawater desalination compared to other desalination techniques.
By the end of this course, you will be able to:
Recognize and classify different types of membranes
Calculate the mass balances, recovery, rejection, pressure and water quality in a reverse osmosis (RO) installation
Describe the rejection mechanism of ions and organic compounds in the membrane system
Explain the advantages and disadvantages of the application of RO
Explain different application of RO membranes (seawater, brackish water and freshwater)
Explain different water flows and their routing in a membrane module
Explain the particulate and biological fouling in the membrane
Explain the concentration polarization mechanism and scaling problem
Calculate an RO unit and design a treatment plant including the RO unit as the heart (seawater, brackish or freshwater)
This course is accredited by The Chartered Institution of Water and Environmental Management (CIWEM) and supported by the International Water Association (IWA).

Details
Course Syllabus
Module 1: Introduction to Reverse Osmosis
Module 2: Seawater Reverse Osmosis
Module 3: Brackish Water
Module 4: Scaling and pre-treatment
Module 5: Application of RO on freshwater and industrial water
Module 6: Biofouling and configuration of Spiral Wound Membranes for RO
Module 7: Concentrate, Permeate and Modeling of an RO installation

The course is open 24 hours a day so you can access the discussion forums and the course materials anytime. There are no fixed times, all communication will be asynchronous except for a small number of activities and assignments which will have weekly deadlines. Our courses encourage you to learn with and from others. Since we would like you to experience all the benefits of online collaboration and peer-feedback, we encourage our learners to keep in contact with other participants throughout the course.
Qualifications
Certificates
If you successfully complete this course you will earn a professional education certificate and you are eligible to receive 3.0 Continuing Education Units (CEUs).
CPD Accreditation
This course is accredited by The Chartered Institution of Water and Environmental Management (CIWEM). If you successfully complete this course you will be entitled to 30 Continuing Professional Development (CPD) credits.
Admission
This course is primarily geared towards working professionals.
Expected prior knowledge
Basic knowledge of chemistry, math and physics. Pre-university education level.
Contact
If you have any questions about this course or the TU Delft online learning environment, please visit our Help & Support page.