Overview
Course video
Learn about this innovative solution for wastewater treatment. Discover the functionality of and (biological) mechanisms behind the Aerobic Granular Sludge (AGS) technology and design a full scale AGS wastewater treatment plant.
The introduction of the aerobic granular sludge (AGS) process represents a significant and evolutionary step in wastewater treatment technology.
AGS deploys the treatment characteristics of granular biomass in highly automated sequencing batch reactors. This results in reductions in land footprint, costs, electricity, sludge production, chemical consumption and delivers improved environmental compliance and robustness compared with established wastewater treatment technologies.
In this course you will learn all about the history of and latest developments in the AGS technology, also known as Nereda technology. You will understand its underlying processes and learn how to implement AGS.
You will visit different AGS treatment plants through online excursions and share the experiences of operators, policy makers and innovators from water authorities using this technology. The course offers a basic design sheet for an AGS treatment plant. Additionally, on our discussion forum, after comparing your preferred options –whether you want to be more cost-effective, improve energy efficiency or make environmental improvements to your wastewater treatment plant– you will be able to share your questions and your fellow participants and the course team will help you in your choices!
Make a basic design of an AGS treatment plant
Besides learning the ins and outs of the AGS technology from the inventors themselves, world-renowned scientists Mark van Loosdrecht and Merle de Kreuk will answer your questions and help you to make a basic design of a wastewater treatment plant based on AGS technology. Throughout the course Royal HaskoningDHV, an independent international engineering and project management consultancy, will share their experiences with the patented AGS technology, which is currently being installed at wastewater treatment plants all over the world.
By the end of this course you will be able to:
explain the basics of aerobic granular sludge (AGS) technology
describe the differences between activated sludge and AGS
explain the microbial conversions in AGS
calculate conversion rates of aerobic granular sludge processes and the dimensions of aerobic granular sludge reactors
explain and design process control strategies for AGS processes
decide on the advantages and disadvantages of the technology in your own situation
create a simple design of an AGS wastewater treatment plant
This course is accredited by the Chartered Institution of Water and Environmental Management (CIWEM) and supported by the International Water Association (IWA).

Award-winning Technology
The AGS technology has has been designated as the Best Water Technology Breakthrough of the past decade by the Global Water Intelligence (GWI): "AGS technology, which saves 50% on energy costs while removing nitrogen and phosphorus, has become a global success for its users". 

This groundbreaking innovation has won public recognition several times. It was awarded, amongst others, the Stockholm Water Prize 2018, the Wastewater Project of the Year - Global Water Awards 2019 and, most recently in 2021 the De Vernufteling prize, considered the most prestigious award for Dutch engineering firms.
Details
Through videos, quizzes and reading material you will learn about the different aspects of this technology: including how and why granular sludge is formed; the differences and similarities with conventional activated sludge systems, and the biological processes that occur simultaneously within the granules and their associated process control parameters.
Who can benefit from this course?
The course is aimed at water professionals (engineers or consultants) from the industry; technologists and innovators from water authorities, municipalities and national governments; policy makers and anyone interested in gaining in-depth knowledge of AGS. The course will enhance the careers of those already in the water treatment and supply industry and the prospects of those wishing to enter it. You should have prior knowledge of basic wastewater treatment processes, like BOD, nitrogen and phosphorus removal and activated sludge plants. High school mathematics, biology and chemistry are also required.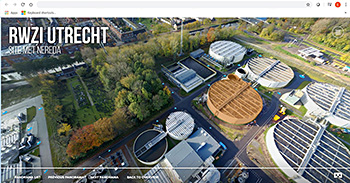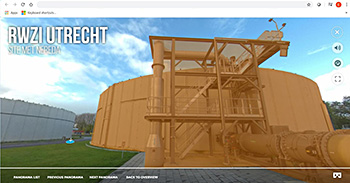 Visit an AGS treatment plant through an online VR excursion
Syllabus
Module 1
We will introduce the background and history of aerobic granular sludge. We will compare activated sludge against bulking sludge and its relation to granules, biofilm structures and factors of granulation and granule formation. You will also learn about the AGS reactor. With the use of a video we will make an online excursion through an AGS installation and explain all the different elements and processes. Through videos, discussions and quizzes you will be able to describe the differences and similarities between activated sludge and granular sludge by the end of the module.
Module 2
You will learn to understand the nutrient removal within aerobic granular sludge and compare it to activated sludge. We will dive into the biological processes in aerobic granules and discuss basic conversions, biological phosphorus and nitrogen removal. We will also explain aerobe and anaerobe layered structures in aerobic granular sludge and the influence of redox gradient on nitrification/denitrification. Other topics to exercise your brain are the influence of oxygen, temperature and volume to surface ratio.
Module 3
This module it's all about judging different AGS designs and it's tough! We will cover pre- treatment and post treatment (screening, sand filters, membrane filtration), design of buffer tanks, hydraulic aspects, biological parameters, aeration, sludge processing and sludge digestion.
Module 4
During this module, we will apply the details you learned in module 3 to make deeper comparisons of batch and continuous processes. We will deal with RWF/DWF (Rain Weather Flow/Dry Weather Flow) batch scheduling. You will also learn about operational aspects of the biological COD (Chemical Oxygen Demand), phosphate and nitrogen removal during the operating cycles of an aerobic granular sludge system and the basic control strategies for optimal conversions. We will use full scale field data to explain which biological processes occur in different circumstances. At the end of this module you will be able to size your own aerobic granular sludge system with a simple modelling.
Module 5
This is what you've been waiting for: customize an AGS installation! We will offer online excursions to the different AGS treatment plants and share the experiences of the operators, policy makers and innovators from water authorities already using this technology, and the companies building these reactors. We will also exchange knowledge and experience with the professionals from Royal HaskoningDHV and take a closer look at your own design. And as it's time to assess, you will write a short report about what you've learned in the past modules and how you can apply the knowledge to a full scale treatment plant design.
Assessment:
Brief description of your interest in the AGS technology (300 words)
Homework questions at the end of each module
Assignment:
Filling out an excel sheet for designing an aerobic granular sludge plant
Qualifications
Certificates
If you successfully complete this course you will earn a professional education certificate and you are eligible to receive 3.5 Continuing Education Units (CEUs).

CPD Accreditation
This course is accredited by The Chartered Institution of Water and Environmental Management (CIWEM). If you successfully complete this course you will be entitled to 35 Continuing Professional Development (CPD) credits.
Admission
This course is primarily geared towards working professionals.
Prerequisites:
You should have prior knowledge of basic wastewater treatment processes, like BOD, nitrogen and phosphorus removal and activated sludge plants. If you don't have this knowledge, we recommend that you take our Urban Sewage Treatment course. High school mathematics, biology and chemistry are required.
Contact
If you have any questions about this course or the TU Delft online learning environment, please visit our Help & Support page.