Bio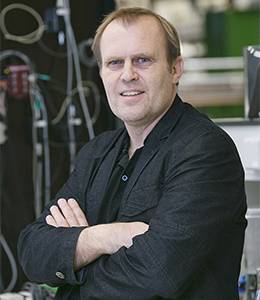 Bas Heijman was born in Heerlen. After finishing secondary school (Atheneum, Stedelijk Lyceum en Havo, Maastricht), he began his study of Molecular Sciences at the Agricultural University of Wageningen in September 1976. After a few years of teaching at the School for horticulture in Nijmegen, in 1987 he began his PhD research at the Technical University in Eindhoven. His PhD thesis was about the stability of titanium dioxide pigments in water-based paints.
In 1991, he started at Kiwa water Research in Nieuwegein, conducting research on beneficial application of drinking water sludge. Other research topics included adsorption on activated carbon, ion exchange, ultrafiltration and nanofiltration.
In 2003, he joined the group of professor Hans van Dijk for two days a week as a teacher and researcher. His main research fields are membrane filtration and new treatment concepts for drinking water production. In 2009 he accepted a full time position as associate professor.

More info
position
Associate Professor at the Department of Water Management, Faculty of Civil Engineering and Geosciences, Delft University of Technology
degrees
PhD, Eindhoven University of Technology
MSc in Molecular Sciences, Wageningen University and Research Centre
faculty
Publications
Recent publications:

Amin, MFM, Heijman, SGJ & Rietveld, LC (2014). Nanoclay for micropollutant removal in wastewater- effective alternative? In KY Cheong, Z Lockman, Z Hussain, N Kamarulzaman, M Jaafar & K Abdul Razak (Eds.), Advanced Materials Research Vol. 1024. Advanced Materials Research (pp. 11-14). Pfaffikon: Trans Tech Publications.
Hu, J, Shang, R, Deng, H, Heijman, SGJ & Rietveld, LC (2014). Effect of PAC dosage in a pilot-scale PAC-MBR treating micro-polluted surface water. Bioresource Technology, 154(February), 290-296.
Laan, H van der, Halem, D van, Smeets, PWMH, Soppe, AIA, Kroesbergen, J, Wubbels, G, Nederstigt, J, Gensburger, I & Heijman, SGJ (2014). Bacteria and virus removal effectiveness of ceramic pot filters with different silver applications in a long term experiment. Water Research, 51, 47-54.
Lu, J, Wen, HQ, Heijman, SGJ & Rietveld, LC (2012). Optimization of submerged ceramic micromembrane filtration for surface water treatment. In s.n. (Ed.), Euromembrane 2012 Vol. 44. Procedia Engineering (pp. 1937-1939). s.l.: Elsevier Science.
Moed, DH, Verliefde, ARD, Heijman, SGJ & Rietveld, LC (2014). Organic acid formation in steam-water cycles: Influence of temperature, retention time, heating rate and O2. Applied Thermal Engineering, 65(1-2), 194-200.