Bio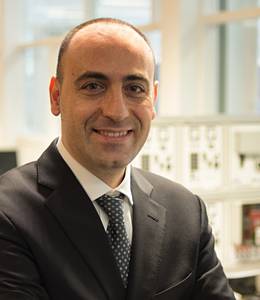 Olindo Isabella obtained his MSc degree in Electronic Engineering from the University of Naples Federico II (Naples, Italy) in 2007. He received his PhD degree (cum laude) from Delft University of Technology in 2013 for his research on light management in thin-film silicon solar cells.
Between 2011 and 2012 he was visiting researcher at AIST, Tsukuba in Japan, working on high performance thin-film a-SiGe:H absorber for multi-junction thin-film silicon solar cells. Since February 2013 he works as assistant professor at Delft University of Technology in the PVMD group, overseeing activities on c-Si solar cells, opto-electrical modelling and PV systems. Olindo is full professor since July 2021.
He has contributed to two scientific books, has 3 patent applications and his H-index is 18 (Google Scholar). Since January 2019 he is the head of the Photovoltaic Materials and Devices group. 
research interest
Opto-electrical modelling activities.
Novel concepts of light management.
Development of high efficiency solar cells based on c-Si.
PV systems modelling.
More info
position
Full professor and the head of the Photovoltaic Materials and Devices group, faculty of Electrical Engineering, Mathematics and Computer Science at Delft University of Technology
degrees
PhD, Thin-film silicon solar cells, Cum laude, Delft University of Technology
MSc, Electronic Engineering, Università degli Studi di Napoli 'Federico II'
faculty