Accredited Courses
Two professional education courses from TU Delft in the field of wastewater and water treatment receive CPD accreditation by The Chartered Institution of Water and Environmental Management (CIWEM).
The courses Aerobic Granular Sludge Technology for Wastewater Treatment and Nanofiltration and Reverse Osmosis in Water Treatment have been accredited by CIWEM as high quality and relevant to the current professional standards within the industry.
"The CIWEM Assessor Panel were impressed with the high-quality material and commended the clear video lectures which are then followed by short tests, allowing participants to discuss areas of difficulty. Participants have made good use of the opportunity provided for discussion and staff have responded within the discussion when appropriate. The content well matches the expected academic background of the participants and the online environment is well structured."
The CIWEM Accreditation allows participants to log the activity as CIWEM Continuing Professional Development (CPD) points which can help towards their professional recognition and chartership applications.
Keeping up to speed with innovations in this field
The treatment of water and wastewater has been revolutionized by the introduction of new technologies. Some of these technologies bring significant benefits: reduction in footprint, lower investment costs, and lower energy and chemical consumption.
The two newly accredited courses are aimed at working professionals, consultants and academics interested in water treatment technologies and their applications. They offer a unique opportunity to discover how these technologies work –by visiting functioning treatment plants and installations through VR and video excursions–, understand their underlying processes and learn how to implement them.
The courses have both been highly received within the industry internationally. Andreas Giesen, Director technology, Royal HaskoningDHV, the Netherlands says "Aerobic Granular Sludge has rapidly developed into a proven, new modern standard for cost-efficient and sustainable treatment of wastewater. This long-awaited course is the first course that offers deep insights into the fundamentals and design of this game-changing technology –and is directly tutored by the original inventors." The AGS technology has been designated as the best water technology breakthrough of the past decade by Global Water Intelligence (GWI).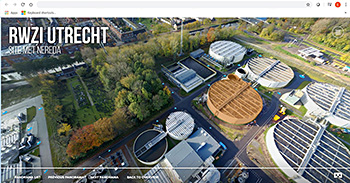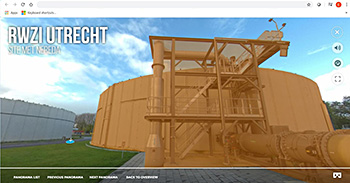 VR excursion
Course participant Pulkit Sethi, Director at Amba Engineers and Project, India, highlights the importance of designing courses that cater to the demands of the industry: "as a water and wastewater engineer I needed to keep my knowledge up to date with modern treatment techniques in order to give my clients the best possible solutions in the most cost-effective way. It was a great learning experience mostly because a lot of practical aspects of RO membrane system design were covered along with the appropriate software skills. For a working professional like me who cannot do regular courses due to time constraints, this online course proved to be of great value."
Interested in these courses? Enroll now and gain access to world-class knowledge and expertise in this field: www.tudelft.nl/water-treatment-courses