theoretical knowledge and practical application - Muhammadh Aqeel Shums Deen
Muhammadh Aqeel Shums Deen
Sri Lanka

"TU Delft delivered this course with a good mix of theoretical knowledge and practical application. "
While working as an Engineer, Muhammadh Aqeel Shums Deen participated in the online course Nanofiltration and Reverse Osmosis in Water Treatment. Read about his experience.
What was your motivation for enrolling in the course? What benefit will this bring to your day-to-day work, career and/or company?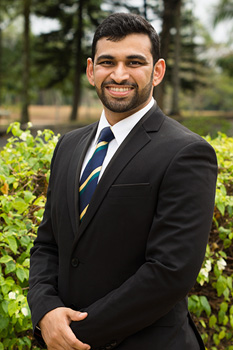 As a Civil Engineer in the water treatment industry I enrolled to this online course to further my knowledge on this particular Desalination Technology. There is much being developed globally and it is necessary to stay up-to-date on the industry and its practices. This form of flexible continuous education is great for personal development and increased career prospects.
How would you describe your online learning experience?
At first I was not a big believer in online learning, but having gone through with it, I would definitely recommend it.  
TU Delft delivered this course with a good mix of theoretical knowledge and practical application. The Video Excursions and Practical Assignments were insightful, the lecture videos were concise and the overall course is well designed to cater to the demands of the industry.
TU Delft is a well reputed university and the panel of lecturers on this MOOC are well qualified; to be able to learn from them was a great experience, and that too without any distraction to my daily routine while learning at a convenient time for me.
What did you think of the online learning environment?
The course was well structured and the course material and assignments were uploaded in a timely manner. It was definitely an interactive MOOC. The Online Learning Support team and teaching staff at TU Delft really made our concerns feel heard and responded in a very time efficient manner. The online learning environment in this course exceeded my expectations.
What is your advice to someone who would like to take a similar online course?
I would definitely recommend any professional in the water sector who doesn't have much knowledge on this technology to enrol to this course. Reverse Osmosis and Nanofiltration is growing in application globally as a means to increase the available potable water, as such it is necessary to have a working understanding on this technology, that this MOOC by TU Delft provides.
I would definitely suggest future participants to do further readings based off the videos and use the forums to have increased dialogues, which would enrich the learning experience.