PRACTICAL APPLICATIONS I CAN USE AT WORK – Tiago Brun Coser
Tiago Brun Coser
Brazil

"The course could provide several examples of practical applications that I can make use of in my work."
While working as a Research and Development Engineer, Tiago Brun Coser participated in the online course Fatigue of Structures & Materials. Read about his experience.
What was your motivation for enrolling in this course?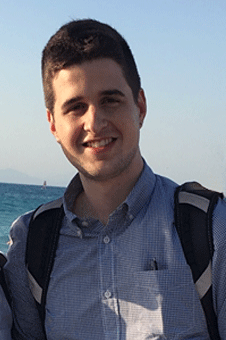 I am a metallurgical engineer with a great interest in structural integrity, mechanical behavior of materials and fatigue. When I found out about the Fatigue of Structures & Materials offered by TU Delft, I was very excited to enroll since the course syllabus was extremely interesting and also there was the flexibility to watch the lectures when I could.
Additionally, I work as a Research and Development Engineer for a company of Oil & Gas industry with a strong focus on structural integrity of subsea systems and the course could provide me several examples of practical applications that now I can employ in my job activities.
How would you describe your online learning experience?
In the past, I've enrolled in several MOOC's and this online course was by far the most complete and well-organized course that I have participated. The course content was extremely well prepared, and presentations were available for download so that I could follow the lecture with the same material that was being presented by the course instructor.
The lectures video duration was very well-balanced, since I could follow all course content even when working. The same thing can be said about the weekly assignments, which were not very extensive but still could provide excellent applications examples of the contents being studied. Also there was a forum available for all students to discuss about the assignments, providing a very collaborative workspace. In my opinion, one of the highlights of this course was the possibility to have online hangouts with the course instructor and other students in order to discuss the assignments and eventual doubts regarding the lectures.
The online environment developed for the course was extremely easy to access and everything was very well organized. The only complaint that I would have is regarding the assignment module that sometimes it was not very straight forward of how the answer should be input.
What is your advice to someone who would like to take a similar online course?
I would totally recommend to someone take a similar online course at TU Delft, since, from my experience, all course materials are very well-prepared, course instructors are always helpful and available and theses courses can provide better career prospects and improve your professional capabilities.