Bio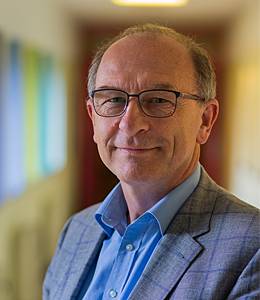 After the successful defense of his PhD thesis at the University of Amsterdam (1983, gas-liquid pipe flow with drag reducers) and a MSc degree in Chemistry (1978, specialization Chemical Engineering; thesis dealing with rheology of aqueous polymer solutions), Dr. Peter Hamersma joined Shell Research, where he worked on water treatment (O/W and W/O separation; research and design).
At the end of 1986 he started as associate professor in Chemical Engineering at the University of Amsterdam, where he enjoyed teaching in the field of Chemical Engineering and research in the field of multiphase pipe flow / multiphase reactors. In 1992 he was one of initiators for a Chemical Engineering (Technische Scheikunde) degree in Amsterdam.In 1994 he had a sabbatical of a semester at Institut Français du Pétrole (Solaize / France) where he worked on scale-up and the hydrodynamics of trickle-bed reactors.
In 1995 he became Director of Education and was responsible for BSc and MSc programs at the in the field of chemistry, chemical engineering and earth sciences and for 2 days per week he was Director of the International School of Science.In 2002 he joined Delft University of Technology as course director of BSc and MSc programs in the field of Chemical Engineering.
In the period 2008-2015 he also participated part-time in research projects in the field of transport phenomena in multiphase systems. Peter Hamersma is currently program director (chemistry/chemical engineering) and enjoys to develop new educational methods to stimulate students to get the best out of themselves.
research interest
Hydrodynamics of multiphase reactors.
Mass transfer in static mixers.
Single and two-phase pipe flow.
Engineering rheology.
More info
position
Associate professor in the Department of Chemical Engineering at Delft University of Technology
degrees
MSc in Chemical Engineering, University of Amsterdam
PhD in Mathematics & Natural Sciences, University of Amsterdam

faculty
Publications
Recent publications:
Hooshyar, N, Mudde, RF , Ommen, JR van, Hamersma, PJ & Sundaresan, S (2014, January 22). When a bubble collides with particles: Stokes or Newton? Veldhoven, The Netherlands, Physics @ FOM.
Hooshyar, N, Ommen, JR van, Hamersma, PJ, Sundaresan, S & Mudde, RF (2013). Dynamics of single rising bubbles in neutrally buoyant liquid-solid suspensions. Physical Review Letters, 110(24), 1-5.
Galindo-Rosales, FJ, Campo-Deano, L, Pinho, FT, Bokhorst, E van, Hamersma, PJ, Oliveira, MSN & Alves, MA (2012). Microfluidic systems for the analysis of viscoelastic fluid flow phenomena in porous media. Microfluidics and Nanofluidics, 12(1-4), 485-498.
Hooshyar, N, Vervloet, D, Kapteijn, F, Hamersma, PJ, Mudde, RF & Ommen, JR van (2012). Intensifying the Fischer-Tropsch synthesis by reactor structuring - A model study. Chemical Engineering Journal, 207-208, 865-870.
Lefortier, SGR, Hamersma, PJ, Bardow, A & Kreutzer, MT (2012). Rapid microfluidic screening of CO2 solubility and diffusion in pure and mixed solvents. Lab On a Chip: microfluidic and nanotechnologies for chemistry, biology, and bioengineering, 12(12), 3387-3391.