Bio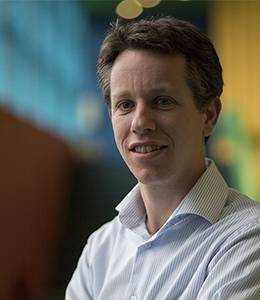 "Online education is an ideal environment to deliver tailor made education throughout the world, specifically suited to the needs of individual students. Students can work at their own pace, at any time and location. By using exciting new didactic approaches such as gamification, education can be made more fun and at the same time more effective. Once an online course is developed, educators can focus on the most interesting and most important element of education – the interaction with students."
Mark Voskuijl has been Assistant Professor in Flight Performance and Propulsion at Delft University of Technology since 2007. He is responsible for lectures, projects and final thesis work related to flight performance and is coordinator of the Master track Flight Performance and Propulsion. He is a specialist in the field of aircraft performance and is the (co)author of about 50 relevant publications (journals, book chapters, conference papers, patents).
Before joining Delft University, Mark completed his PhD at the Flight Science and Technology research group of the University of Liverpool within the 'helicopter active control technology' project, which focused on the benefits of novel active control concepts, applied to the mutual improvement of handling qualities, flight envelope protection and structural load alleviation for helicopters. This project involved close collaboration with the National Research Council of Canada. Extensive use was made of their advanced systems research aircraft, a fly-by-wire Bell 412 helicopter.
Mark's interest and passion for the field of aircraft performance was originally sparked by work placements as a graduate student at the handling qualities department of Boeing Helicopters and the helicopters and aeroacoustics department of the Dutch National Aerospace Laboratory (NLR).
research interest
Flight performance of future aircraft designs.
Present day helicopters.
More info
position
Assistant professor at the Department of Flight Mechanics and Propulsion at Delft University, Faculty of Aerospace Engineering, Delft University of Technology
degrees
PhD, University of Liverpool
MSc in Aerospace Engineering, Delft University of Technology

faculty
Email
M.Voskuijl@tudelft.nl
Publications
Recent publications:

Tian, F & Voskuijl, M (2016). Mechatronic design and optimization using knowledge based engineering applied to an inherently unstable and unmanned aerial vehicle. IEEE - ASME Transactions on Mechatronics, 21, 542-554.
Voskuijl, M, Tooren, MJL van & Walker, D.J. (2015). Condition-based flight control for helicopters: An extension to condition-based maintenance. Aerospace Science and Technology, 42(April-May), 322-333.
Huijts, C & Voskuijl, M (2015). The impact of control allocation on trim drag of blended wing body aircraft. Aerospace Science and Technology, 46, 72-81.
Vos, R, Eeckels, C, Schoustra, R & Voskuijl, M (2014). Analysis of a Ground-Based Magnetic Propulsion System. Journal of Aircraft, 51, 1013-1022.
Veldhuis, LLM, Voskuijl, M & Fransen, B (2013). Formation Flight - Fine-tuning of Theoretical Performance Prediction. AIAA 2013-0961. In s.n. (Ed.), proceedings of the 51st AIAA Aerospace Sciences Meeting including the New Horizons Forum and Aerospace Exposition (pp. 1-17). Washington DC: AIAA.