Bio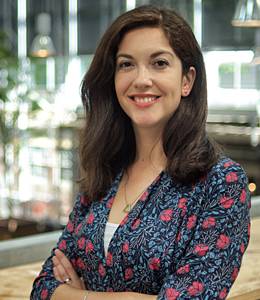 "Online education is an excellent tool to enlarge the impact of education in an effective and democratic way. The virtual classroom is open to anyone that wants to participate and learn, giving us the chance to have a vastly intercultural and diverse audience that we could never have in a traditional classroom. It is an exceptional opportunity to exchange knowledge between students and teachers from all over the world!"
Luz Maria Vergara d'Alençon is a PhD candidate in the Department of Management in the Built Environment at TU Delft. Her research project focuses on housing management and low-income homeownership in condominium tenure. She is an architect and holds a MSc in Architecture from Universidad Católica de Chile (Catholic University of Chile).
Luz María was born in Chile and resides in the Netherlands since 2014. Throughout her professional career she has performed functions in architectural design, independent consultancy, research and teaching. Her research interests are related to housing and community organisations in vulnerable contexts. She is interested in understanding how societal requeriments can be incorporated in housing design processes and management services through participatory and collaborative methods.
More info
position
PhD candidate, Management in the Built Environment Department, Faculty of Architecture and the Built Environment, Delft University of Technology
degrees
MSc in Architecture, Catholic University of Chile
faculty
Publications
Recent publications:
Vergara d'Alencon, L. M. (2016). Gestión de la Vivienda Social. Hechos, desafíos y campos de acción. Revista CA. Ciudad y Arquitectura, 152.
Vergara d'Alencon, L. M., Gruis, V., & Van der Flier, K. (2016). The intermediary role of social enterprises in the management of affordable condominiums. Evidence from a Chilean case study. Paper presented at the ENHR Conference 2016. Governance, Territory and Housing, Belfast, Northen Ireland, 28 June - 1 July 2016.
Vergara d'Alencon, L. M., Gruis, V., & Van der Flier, K. (2015). The technical, managerial and sociocultural maintenance challenges for low-income homeowners in Santiago, Chile. Paper presented at the ENHR Conference 2015. "Housing and Cities in a time of change: Are We focusing on people?", Lisbon, Portugal 29 June-1 July 2015.