Bio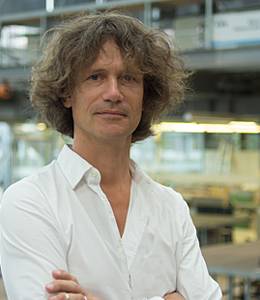 Trained as an architect, Leo van den Burg was introduced to the Dutch tradition in urban planning through his work in practice. At Delft University of Technology, he coordinates the design track within the bachelors education and is design teacher in a variety of courses.
Leo has contributed to research programmes on the development of the Dutch Randstad and Southwestern Delta. He has curated two large exhibitions on Dutch Urbanism and (co-) edited a number of books on various topics related to urbanism and urban analysis. 
He is firmly rooted in the typical Delft approach to design: contextual and multi-scalar. In his teaching, Leo stimulates an open and experimental approach to design in which research and design activities constantly run parallel. This to-and-fro, he also tries to include in blended learning: short methodical exercises supporting intuitive design statements – and vice versa.
His personal interests include ancient cities and house typologies throughout history.
research interest
Urban design, analysis techniques (typo-morphology), the dividing line between urbanism and architecture.
The building in its urban context, history, the structure (and development) of the Dutch city, small villages in the west of the Netherlands.
More info
position
Lecturer in the department of Urbanism, faculty of Architecture and the Built Environment, Delft University of Technology
degrees
MSc, Architecture, Delft University of Technology
faculty
Publications
Recent publications:
Burg, LPJ van den. (forthcoming). Stedelijke ontwikkeling in Zeeland van de zestiende- tot de eenentwintigste eeuw: enkele cases rond het Sloegebied. In OverHolland.
Burg, LPJ van den. (2009). Zoeken naar een passend gebouw: een reconstructie van de stedelijke inpassing van het Amsterdamse stadhuis op basis van de vroedschapsresoluties, 1639-1648. In Bulletin KNOB. (2009, nr2, pp.58-71).
Meyer, VJ, & Burg, LPJ van den (2006). Historical context and modern urbanism. Historische context en moderne stedenbouw. In VJ Meyer & LPJ van den Burg (Eds.), The memory of the city. Cultural history and urban design.Geheugen van de stad. Cultuurhistorie en stedebouwkundig ontwerp (TU Delft Stedenbouwstudies) (pp. 10-17). Amsterdam: Uitgeverij SUN.
Meyer, VJ, & Burg, LPJ van den (2005). Introduction. In VJ Meyer & LPJ van den Burg (Eds.),Working for the city (pp. 7-7). Amsterdam: SUN.
Burg, LPJ van den (2004). Dutch morphological analysis in European context. In F Claessens & L van Duin (Eds.), The European city.Architectural interventions and urban transformations(pp. 370-377). Delft: Dup science.