Bio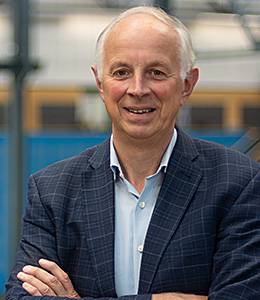 Kornelis Blok has worked his entire professional life on the energy transition. When he was 28, he co-founded a consultancy company, Ecofys – now part of Guidehouse. With this company he has worked on the technical development of renewable energy sources, and later on the development of European energy, and climate policies. Ecofys has also helped companies to reduce their greenhouse gas emissions. A landmark achievement was the development of the so-called Sectoral Decarbonisation Approach, which is now used by many companies to set their greenhouse gas emission reduction targets.
At the same time, Kornelis Blok has always held academic positions, first at Utrecht University and now at Delft University of Technology where he holds a chair in energy systems analysis. He is also chairman of the Delft Energy Initiative, the umbrella organisation for all energy research at Delft University of Technology.
Kornelis has published over 100 peer-reviewed scientific articles on topics like industrial energy and carbon efficiency, energy impacts of consumption patterns, energy systems based mainly on renewable sources, carbon-capture-and-storage, and the design of international climate policies.
Kornelis Blok is a lead author for the 3rd, 4th and 6th Assessment Reports of the Intergovernmental Panel on Climate Change, the institution that was awarded the Nobel Peace Prize in 2007.
In 2022, Kornelis was awarded the Royal honorific "Knight of the Order of the Dutch Lion" for having dedicated his career to solving energy and climate issues and realising a sustainable energy supply.
More info
position
Professor in Energy Systems Analysis at Delft University of Technology
degrees
PhD, Energy Science, Utrecht University
MSc, Physics, Utrecht University
faculty