Bio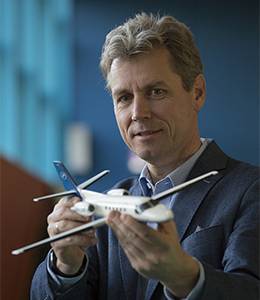 "With our online courses we can help people from all over the world. I was deeply touched by the grateful letters which I received after the course."
After 16 years as researcher and manager in the field of flight simulation, handling qualities, avionics, human factors and CNS/ATM at the National Aerospace Laboratory (NLR) of the Netherlands, working for the FAA and NASA, professor Hoekstra was asked to be the Dean of the Aerospace Engineering faculty of the Delft University of Technology.

After serving two terms as dean, he was appointed as chairholder CNS/ATM of the Control & Simulation group at this faculty. Apart from the awards for his research, he has also been chosen as best teacher of the faculty and is the recipient of the International Open Courseware award for multimedia usage in 2013.

More info
position
Full Professor of Communication, Navigation, Surveillance / Air Traffic Management at the Department of Control and Simulation, Faculty of Aerospace Engineering, Delft University of Technology
degrees
PhD, Delft University of Technology
MSc in Aerospace Engineering, Delft University of Technology

faculty
Publications
Recent publications:

"Programming & Scientific Computing in Python for Aerospace Engineering", Jacco Hoekstra, AE1205 Lecture Notes (139 pages), TU Delft, 2014
"Free Flight in a crowded Airspace?", J.M. Hoekstra, R.C.J. Ruigrok, R.N.H.W. van Gent, June 2000, presented at FAA/Eurocontrol 3rd USA/Europe Air Traffic Management R&D Seminar, Awarded "Best research in Airborne Separation Assurance domain"
DASC 2002 paper "Free Flight: How low can you go?", J.M. Hoekstra, F.J.L. Bussink, Digital Avionics Systems Conference paper IEEE, Irvine/USA, 2002
"Human factors evaluations of Free Flight: Issues solved and issues remaining." Ruigrok, R.C.J.; Hoekstra, J. M. In: Journal of Applied Ergonomics vol. 38 issue 4 July, 2007, p. 437-455
"Traffic Manager: a Flexible Desktop Simulation Tool Enabling Future ATM Research" - Frank Bussink, Jacco Hoekstra, Bart Heesbeen, 24th IEEE/DASC Conference, Washington DC, 2005