Bio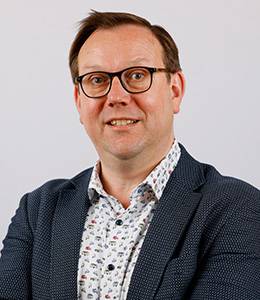 Gijsbert Korevaar studied Chemical Engineering at TU Delft from 1992-1998. He is both an assistant professor at TU Delft (since 2012) and research professor at Hogeschool Rotterdam (since 2021). He completed his dissertation in 2003 entitled 'Design of Sustainable Processes and Products'. Since then, he has published and researched topics such as the heat transition, sustainable business parks, industrial symbiosis, recovery of raw materials from wastewater and complexity issues surrounding sustainability and governance. 
Gijsbert is intensively involved in the start-up of and co-leads the Delft Circularity Lab and was co-initiator and program director of the MSc Industrial Ecology program from 2004-2012. 
research interest
Industrial symbiosis
Sustainable chemical engineering
Circular economy
More info
position
Assistant professor at Delft University of Technology.
degrees
PhD, Chemical Engineering, Delft University of Technology
MSc, Chemical Engineering, Delft University of Technology
faculty