Bio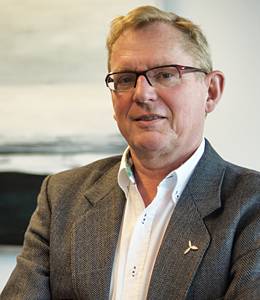 Gerard van Bussel is full professor Wind Energy at the faculty of Aerospace Engineering of TU Delft. He has a long track record in research and education and started lecturing wind energy at TU Delft in 1982. He is heading the wind energy group and as such responsible for the wind energy educational programme of the faculty which spans currently eight different courses in both the undergraduate and the graduate programme. He is a board member of EAWE, the European Academy of Wind Energy, a board member of EWEM, the European Wind Energy Master education programme, and a board member of NWEA, the Dutch Wind Energy Association.
His enthusiasm for modern wind energy sparked from his interest in old Dutch Windmills. When he was a student he volunteered in keeping old windmills up and running, and became a certified wind miller. At TU Delft he obtained his PhD degree on Rotor Aerodynamics Modelling, and continued his career in wind energy research and education. He is a true believer renewable energy and in modern education. He developed and presented a fully interactive wind energy online reader in 2006, which has been used since then in a 3TU Sustainable Energy Technology MSc curriculum, provided by the three Dutch technical universities. In 2009 he concluded the DigiWind project in which freshmen at TU Delft were educated in wind energy in an interactive studio classroom setting.
In the media
research interest
Rotor aerodynamics.
Wind turbine conceptual design.
Novel applications of wind power.
O&M aspects of offshore wind.
More info
position
Full professor of Wind Energy at the faculty of Aerospace Engineering, DelftUniversity of Technology
degrees
PhD, Mathematical Physics, Delft University of Technology
MSc, Applied Mathematics, Radboud University Nijmegen
faculty