Bio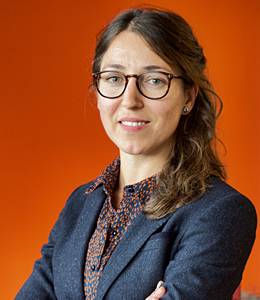 Eliz-Mari Lourens is an assistant professor in Structural Monitoring and Identification at the Faculty of Civil Engineering and GeoSciences. Apart from her activities in the field of structural health monitoring, she is also responsible for lectures, research projects and MSc thesis work related to offshore wind energy. She is the (co)author of about 40 publications (journals, book chapters, conference papers) related to vibration data analysis for health and load monitoring of civil and offshore structures.
Before joining Delft University, Eliz-Mari completed her PhD at the Structural Mechanics research group of the KU Leuven within the framework of the project 'Generic Methodologies for Inverse Modeling of Dynamic Problems in Civil and Environmental Engineering', where she focused on the identification of dynamic loads from vibration response measurements. Her research is currently focused on linear and nonlinear state/input/parameter estimation, damage detection, optimal sensor placement, system identification, and machine learning, with applications in the fields of wind energy, arctic engineering, and health monitoring of civil infrastructure.
Eliz-Mari additionally holds the position of Assistant Editor for the Journal of Sound and Vibration, and acts as reviewer for numerous international scientific journals.
research interest
Structural health monitoring.
Linear and nonlinear state/input/parameter estimation.
Optimal experiment design.
System identification and model validation.
Machine Learning.
Offshore Renewable Energy.
More info
position
Assistant professor in Structural Monitoring and Identification at the faculty of Civil Engineering and Geosciences,Delft University of Technology
degrees
PhD, Civil Engineering, KU Leuven
MSc, Civil Engineering, Stellenbosch University
faculty
Publications
Recent publications:
Joint input-response estimation for structural systems based on reduced-order models and vibration data from a limited number of sensors - Eliz-Mari Lourens Costas Papadimitriou Steven Gillijns [...] Geert Lombaert - Article May 2012 Mechanical Systems and Signal Processing
Design of sensor networks for instantaneous inversion of modally reduced order models in structural dynamics K. Maes E. Lourens K. Van Nimmen [...] G. Lombaert - Feb 2015 Mechanical Systems and Signal Processing
Laboratory experiments to study ice-induced vibrations of scaled model structures during their interaction with level ice at different ice velocities - Torodd S. Nord Eliz-Mari Lourens Mauri Määttänen [...] Knut V. Høyland - Jul 2015 Cold Regions Science and Technology
Vibration-based Identification of Hydrodynamic Loads and System Parameters for Offshore Wind Turbine Support Structures - D J M Fallais S Voormeeren E Lourens - Article Sep 2016 Energy Procedia
An augmented Kalman filter for force identification in structural dynamics - E. Lourens E. Reynders G. De Roeck [...] G. Lombaert - Article Feb 2012 Mechanical Systems and Signal Processing