Bio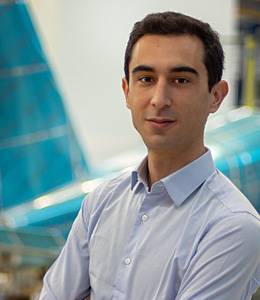 Carmine Varriale has been PhD candidate in Flight Performance and Propulsion at Delft University of Technology since 2017. His main research interests cover Flight Mechanics and Control of novel aircraft configurations and, more broadly, Flight Simulation. This has brought him to investigate the dynamic behaviour of innovative aircraft with redundant and/or interacting control effectors, and to supervise a small number of MSc thesis projects related to these topics. He has been constantly improving his preparation in the fields of aircraft performance analysis and optimization, as well as developing a theoretical and practical background in didactics for online courses.
Before joining Delft University of Technology, Carmine obtained his MSc degree from the Design of Aircraft and Flight Technologies research group of the University of Naples "Federico II". He graduated cum laude with a thesis about light aircraft - wind turbines wake encounters. The project involved both flight dynamics simulation and wind turbines flow CFD simulation, and it was carried out through an internship period with the Fraunhofer Institute for Wind Energy Systems in Oldenburg, Germany.
Carmine's interest for flight simulation and control was born in the early years of university, and has been constantly sparkled by the amazing preparation and burning passion of his colleagues and supervisors. He has started a PhD in order to continue learning and improving his knowledge of these disciplines.
research interest
Flight Mechanics and Control of future aircraft configurations
Flight Simulation
More info
position
PhD candidate in Flight Performance and Propulsion at Delft University of Technology
degrees
MSc, Aerospace Engineering, Università degli Studi di Napoli 'Federico II'
BSc, Aerospace Engineering, Università degli Studi di Napoli 'Federico II'
faculty