Bio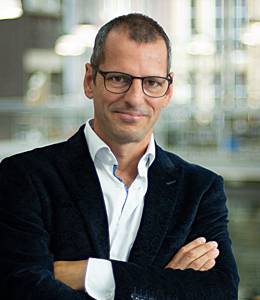 Andy van den Dobbelsteen is full professor of Climate Design & Sustainability with the Faculty of Architecture & the Built Environment at TU Delft, and Principal Investigator for the Amsterdam Institute for Advanced Metropolitan Solutions (AMS). He chairs the scientific advisory board of NL Greenlabel and sits on the general board of the Dutch Green Building Council. He advises the government on energy transition.
Andy has led and conducted many research projects on energy, climate and sustainability in the built environment, among which the City-zen (on energy transition), Climate Proof Cities (on climate adaptation), and Better Airport Regions (on circularity). He was faculty advisor to the TU Delft team for the Solar Decathlon Europe competition in Versailles, 2014, which won five prizes; the team's Prêt-à-Loger house is the world's most sustainable terraced house.
Andy lectures nationally and internationally and conducts research in sustainability, most notably on sustainable energy solutions, adaptation to climate change and approaches to circularity. His approach in education and research founds on using the full potential from local circumstances and renewable sources.
In 2019, he was awarded the KIVI Academic Society Award. The award honors professors who conduct research of major social importance, and who make efforts to generate discussions with society.

Andy van den Dobbelsteen is the winner of the 2020 edX Prize for Exceptional Contributions in Online Teaching and Learning, with his online course "Zero-Energy Design: an approach to make your building sustainable".
More info
position
Professor of Climate Design & Sustainability, Faculty of Architecture & the Built Environment, Delft University of Technology
degrees
PhD, Building Engineering, Delft University of Technology
MSc, Building Engineering, Delft University of Technology
faculty