Bio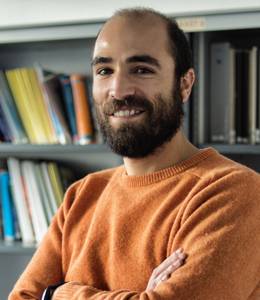 Ricardo Pereira has been at the TUDelft since 2007, when he started his Erasmus program. He completed his master's degree in 2010, focusing on wind turbine aerodynamics. He conducted most of master research at the Energy Center of the Netherlands (ECN).
In 2011 Ricardo started his PhD program, with the Wind Energy section. His PhD research focused on the design of a novel wind turbine concept termed 'Active Stall Control '. More specifically, he conducted both experimental and analytical research on a very promising flow control actuation type, termed DBD Plasma Actuators. He graduated in 2016.
Ricardo has worked closely with wind turbine manufacturers, particularly in designing airfoil sections and acoustic mitigation devices (Trailing Edge Serrations). He is passionate about teaching and throughout his PhD, he took part in student evaluation in several courses. He is now a lecturer at the Wind Energy section, dedicated mostly to the online courses platform.
Outside university, Ricardo spends a lot of his time writing, arranging and playing music. It is a major passion and source of enjoyment in his life.
research interest
Both experimental and analytical aspects, including flow control, dynamic stall, unsteady aerodynamics, viscous-inviscid panel methods and DBD plasma design and characterization.
More info
position
Instructor at the Wind Energy sectionat the faculty of Aerospace Engineering, Delft University of Technology
degrees
PhD, Aerodynamics, Delft University of Technology
MSc, Aerospace Engineering, Delft University of Technology
BSc, Aerospace Engineering, Delft University of Technology

faculty
Publications
Recent publications:
Investigating the Influence of DBD Plasma Actuators on the Skin Friction in Integral Boundary Layer Formulation - S Bal, R Pereira, G de Oliveira, D Ragni
Analysis of Local Frequency Response of Flow to Actuation: Application to the Dielectric Barrier Discharge Plasma Actuator - R Pereira, M Kotsonis, G de Oliveira, D Ragni
Modeling DBD Plasma Actuators in Integral Boundary Layer Formulation for Application in Panel Methods - G de Oliveira, R Pereira, D Ragni, M Kotsonis
Active stall control for large offshore horizontal axis wind turbines; a conceptual study considering different actuation methods. - R Pereira, G van Bussel, N Timmer
Effect of external flow velocity on momentum transfer of dielectric barrier discharge plasma actuators -
R Pereira, D Ragni, M Kotsonis