Bio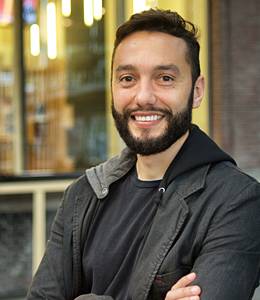 "What fascinates me about online education is its capacity to connect thousands of people from completely different contexts and backgrounds. This definitely challenges the traditional roles of teachers and students and opens the opportunity to a true collective construction of knowledge."
Dr. Igor Pessoa is a postdoctoral researcher in the department of Urbanism at the Faculty of Architecture and the Built Environment. He is an expert on participatory planning and design practices. His research looks for possible mechanisms to improve urban resilience with focuses in community empowerment. He tries to transform the broad concept of resilience into practical, objective and implementable practices.
In TU Delft he also helped to establish the Global Urban Lab, a collective initiative of researchers that are working to tackle urban challenges in emerging economies. He became an Architect and Urban Planner by the Federal University of Rio de Janeiro, but has always been interested on strategies beyond the traditional design-oriented solution for urban problems. In that sense, Igor is eager to work with experimental and multidisciplinary strategies to solve complex urban challenges.

research interest
Urban Policies.
Resilience.
More info
position
Postdoctoral researcher in the department of Urbanism at the Faculty of Architecture and the Built Environment
degrees
PhD, Urban Studies, Delft University of Technology
Bachelor of Architecture and Urbanism, Federal University of Rio de Janeiro
MA in International Relations, Geneva School of Diplomacy
faculty
Publications
Recent publications:
Pessoa, I., Tasan-kok, T. & Korthals Altes, W. (2016). Brazilian urban porosity: treat or threat? Proceedings of the Institution of Civil Engineers - Urban Design and Planning. Volume 169, Issue 2, pp. 47-55.
Pessoa, I. (2016). From fragmentation to evolutionary change: the influence of fragmentation on the creation of self-organisation capacity in Brazilian metropolises.. Paper presented at the World Planning Schools Congress 2016. Rio de Janeiro, Brazil. 3-8 July 2016.
Pessoa (2015). A new push towards spatial fragmentation? The case of the Brazilian social housing program "minha casa, minha vida" in Belém and Manaus. Paper presented at the ENHR Conference 2015. "Housing and Cities in a time of change: Are We focusing on people?", Lisbon, Portugal 29 June-1 July 2015.
Pessoa, I. (2013). Violência Urbana: o terror sul-americano.O Debatedouro. Issue 82, pp. 55-59.