Bio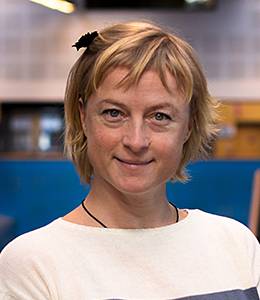 Froukje Sleeswijk Visser is assistant professor at IDE, TU Delft. After coining the term 'contextmapping' in her MSc graduation project, she has developed techniques of UX research and communication in the areas of product and service design in a PhD, subsequent research projects, and in her own design consultancy 'contextqueen'.
Her areas of expertise are Contextmapping and UX communication, and Service Design methods.
research interest
Theory and practice of journey mapping.
Theory and practice of empathic design.
Theory and practice of user- and stakeholder involvement in innovation process.
Developing education for the service design perspective.
More info
position
Assistant professor at the department of Design Conceptualization and Communication, Faculty of Industrial Design Engineering, Delft University of Technology
degrees
PhD, 'Bringing the everyday life of people into design', Delft University of Technology
MSc in Industrial Design Engineering, Delft University of Technology
faculty
Publications
Recent publications:
Holmlid, S , Mattelmaki, T , Sleeswijk Visser, F , Vaajakallio, K (2015). Co-creative practices in service innovation. The handbook of service innovation, (pp. 545-574) London: Springer London.
Lee, B , Sleeswijk Visser, F , Saakes, D (2015). Online user reviews as a design resource. Blackler, A, Luh, DB, Popovic, V, Nimkulrat, N, Kraal, B, Nagai, Y (Eds.) Proceedings of the IASDR 2015 interplay (pp. 1220-1233) s.l.: IASDR.
Sleeswijk Visser, F , Stappers, PJ (2014). Op verkenning in het alledaagse: De gebruiker als expert., Tijdschrift voor Human Factors, 39 (4), 22-26.
Sleeswijk Visser, F (2014, May 27) User centred innovation in practice. Keynote in series: Catch the future of kaist, Korea
Sleeswijk Visser, F (Eds.) (2014). Crisp #3: Fake it make it. Delft: Delft University of Technology, Faculty of Industrial Design Engineering, CRISP. (April)