Bio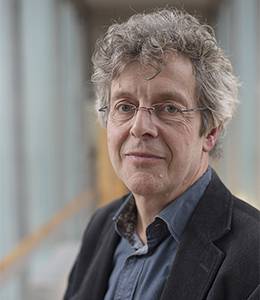 "We teach problem structuring methods; we try to teach people to think beyond the technical solution and to pay attention to uncertainties, to social impacts and the dynamics of political decision-making processes. Our online students are our reality check; if they cannot apply our tools why bother our students?"
Bert Enserink is associate professor of policy analysis and program manager of the Engineering and Policy Analysis master at the faculty of Technology, Policy Analysis and Management of Delft University of Technology. He holds a MSc from Wageningen Agricultural University (country planning consultant) and a PhD from the University of Twente, where he completed a project on technology assessment and weapon development at the Faculty of Philosophy and Social Sciences, in the Philosophy of Science, Technology and Society Section.
Enserink has published on stakeholder management, on participative policy analysis, has designed a quick scan for integrated assessment of infrastructures and has executed several scenario studies. His research focuses on land use and infrastructure planning, coastal zone management and integrated water management.
Enserink teaches several modules in the SEPA bachelor and master program and in the EPA master program.
research interest
Stakeholder analysis.
Network analysis.
Quick scans and rapid appraisals.
Visual problem appraisal.
Scenario analysis.
Conceptual modeling.
Support tools for interactive planning.
More info
position
Associate professor at the Department of Policy Analysis, Faculty of Technology, Policy and Management, Delft University of Technology
degrees
PhD, Twente University
Msc, Wageningen University

faculty
Publications
Recent publications:

Enserink, B (2014). Setting the scene : concepts, purposes, principles and guidelines of public participation in EIA. In M Alberton, Joseph Marko & Fransesco Palermo (Eds.), Public participation in environmental decision-making in the EU and in China. The case of environmental Impact assessment. EURAC research minderheiten und antonomien (Schriftenreihe der Europäischen Akademie Bozen, Bereich Minderheiten und Autonomien, 25) (pp. 51-64). Bozen: Nomos-Verlag.
Onencan, AM & Enserink, B (2014). The Nile basin by 2050: Strategic foresight on the nile basin water governance. Nsamizi: Nile basin discourse.
Egyedi, TM & Enserink, B (2013). Measuring the benefits of open standards: A contribution to Dutch politics. Standards Today, XII(1), 1-13.
Enserink, B, Kwakkel, JH & Veenman, S (2013). Coping with uncertainty in climate policy making : (Mis)understanding scenario studies. Futures: the journal of policy, planning and futures studies, 53(September), 1-12.
Egyedi, TM & Enserink, B (2013). Measuring the benefits of open standards standards: Beyond the motion Gerkens and the Dutch Court of Audit report1. In s.n. (Ed.), EURAS 2013 conference (pp. 1-27). s.l.: s.n..